February 22, 2021
Dear Colleagues,
Before I share with you news from our various academic units and departments across the University, I thought a brief reflection on this date was appropriate.
Today we recognize two distinct observances: one religious, the other secular, but their connection on this date very much symbolizes the nature of this University and the special place we occupy.
The first celebration is the Feast of the Chair of Saint Peter. The chair itself, a relic conserved in St. Peter's Basilica in Vatican City of a wooden throne that tradition claims Saint Peter used as Bishop of Rome, is now enclosed in a sculpted gilt bronze casing designed by Gian Lorenzo Bernini. However, this celebration is more than just a commemoration of a piece of furniture as if visiting a museum of ancient artifacts and household goods. As Pope Benedict XVI described this feast day in 2012, the proper reflection on the Chair of Peter means to recognize its place as "a symbol of the special mission of Peter and his Successors to tend Christ's flock, keeping it united in faith and in charity."
The second celebration is the commemoration of the birthday in 1732 of George Washington, first President of the United States and "Founder of our Country". While the holiday itself has been absorbed into "Presidents' Day" celebrated on the third Monday in February, the observance of Washington's birthday remains an opportunity to reflect on what it means to be a resident of this country. All the more for us, since we have an unavoidable connection to President Washington as a University established in the city whose location was chosen in 1790 by this former surveyor and was named after him one year later.
In his farewell address to the nation in September 1796, President Washington recognized that "Of all the dispositions and habits which lead to political prosperity, religion and morality are indispensable supports. In vain would that man claim the tribute of patriotism who should labor to subvert these great pillars of human happiness, these firmest props of the duties of men and citizens." Likewise, Washington urged the nation to "promote...as an object of primary importance, institutions for the general diffusion of knowledge. In proportion as the structure of a government gives force to public opinion, it is essential that public opinion should be enlightened."
The double recognition of heroes of Church and state is most apropos for our University today, and our institution remains committed to our mission to Light the World. As The Catholic University of America, we are "a community of scholars, both faculty and students, set apart to discover, preserve and impart the truth in all its forms, with particular reference to the needs and opportunities of the nation."
We have "unique responsibilities to be of service to Christian thought and education in the Catholic community as well as to serve the nation and the world," and we accept those responsibilities willingly and eagerly.
We are both a part of this city of Washington, DC, but we also stand apart from this city and its demand to win the day in the here and now, for we are "faithfully Catholic, conformed in all things to the creed of the Church and the decisions of the Holy See."
On this day when the accomplishments of two great men from very different fields of human history are celebrated, we as members of The Catholic University of America can and should take unique pride in our mission as the national university of the Catholic Church in the United States.
The Vice Provosts for Undergraduate and Graduate Studies offer the following spring semester reminders:
We have updated the Academic FAQ for

faculty

and

students

. The Dean of Students also has an updated

FAQ

on that office's website.

You should be able to see students who have indicated that they are learning remotely this semester on  your class rosters. If you have students who have told you they are learning remotely but are not showing up as being in this category, please direct them to fill out this

form

. We are realizing that there are still students who still need to let us know officially that they are studying remotely.

We are doing a progress report campaign for all undergraduate students. You can answer the questions from your email or by logging into Cardinal Success. Please use this to let us know if students are not coming to classes, not turning in assignments, or are underperforming academically.  You can also let us know if you think the student is at risk for not passing at this point.  We are hoping for this input now so that we can do outreach before midterms.

Please remember that we will be asking for midterm grades to be entered in Cardinal Students for all undergraduate students this spring.

Please remember to end classes on time. It is difficult for students with classes back to back if class goes over - particularly if they are moving on and off campus. SGA recently passed legislation on this issue.

If you are teaching in person this semester, there may be times where we ask you to put your class online for a 2 week period after consultation with the Dean of Students on the positivity rate in your class. We make this recommendation based on the percentage of students who are positive or quarantined in your class in an abundance of caution. However, we learned this fall that sometimes students are in quarantine that we are not aware of since they may not have yet gone through the official process on campus or they may be off campus not using Student Health Services. As such, if you hear from students that they are not coming to class because they have tested positive for COVID or are quarantined, please email

deanofstudents@cua.edu

.
The Office of Marketing and Communications invites all faculty to encourage their students to participate in the CatholicU Magazine Student Writing Contest with the following invitation: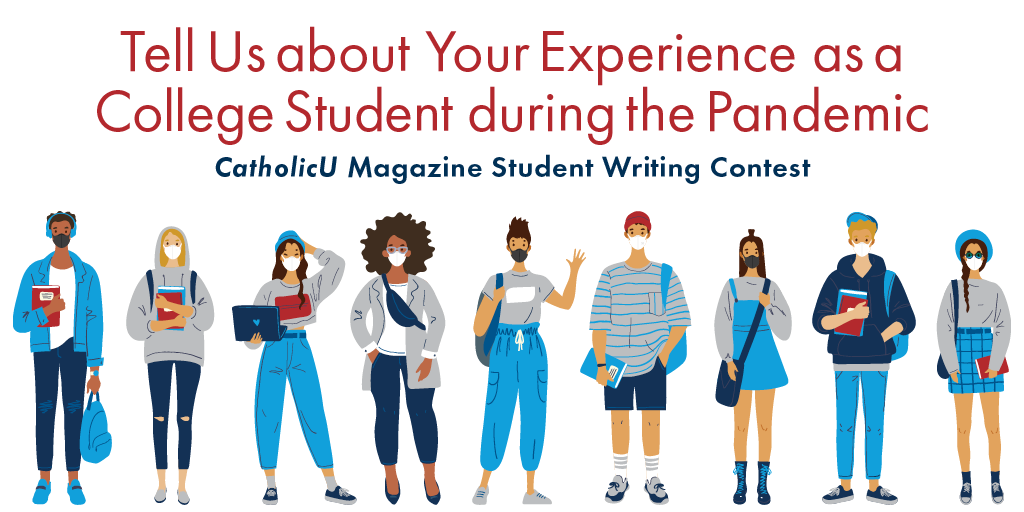 It's been almost one year since the COVID-19 pandemic forced shutdowns across the country. In this year like no other, we experienced loss, separation, fear, and demands for justice. The challenges for college students have been too many to count. We want to hear your stories!
Share your experience of the last year, whether it be one of hardship, triumph, or both--and win a chance to have your essay published in the spring 2021 issue of the magazine. Submit your entries by March 15.
The Office of Global Strategies has the following updates for the faculty:
Faculty from the School of Architecture and Planning and the Rome School of Music, Drama, and Art are giving Catholic University students an international experience this semester by organizing some of the first ever virtual exchange courses with partner institutions in Palestine and Mexico.

New partnerships and renewals are being pursued with the Rennes School of Business in France, Christ University in India, John Paul II Catholic University in Poland, University of Santo Tomas in the Philippines, the Pontifical Catholic Universities of Sao Paulo, Paraná and Rio Grande do Sul, Catholic University Dom Bosco, University Metropolitana Unidas, and Federal University of Uberlandia in Brazil.

Virtual study abroad fair week was a great success with dozens of students participating online to learn more about study abroad at Catholic University.

Rome Center Professor Guendalina Serafinelli was recently

published by Oxford University Press

for her work on Fabio Fani's art collection in 18th Century Rome.

Get to know our Rome Center faculty through

videos they have made

to introduce themselves and their courses in Rome.

National Study Abroad Day is today, February 22! Follow us on Instagram or Twitter @catholicabroad to celebrate and promote study abroad.

Summer 2021 and Fall 2021 study abroad is still under consideration. The University anticipates making decisions on a program-by-program basis no later than March 15 and June 1, respectively.
The School of Arts and Sciences has awarded its first ever Mid-Career Sabbaticals to Tobias Gregory (English), Laura Mayhall (History), and Alex Russo (Media Studies).
The Mid-Career Sabbatical is a new honor that gives one semester of teaching relief to Associate Professors who have a significant history of service at the University and a research project that could be completed during the sabbatical. It will be offered annually as a means to give back to faculty who have extended themselves for the benefit of the University community. Dean Thomas W. Smith observes, "I'm delighted to be able to provide this support to three excellent faculty members.  We're grateful for their citizenship and we were impressed by the quality of their proposals.  We also wish them all the best in their research during their sabbatical.  The Dean's office is grateful for the generosity of our Board of Visitors.  Their contributions to our school made this initiative possible."
Dr. Gregory will use the sabbatical to complete his book Milton's Strenuous Liberty, on developments in the poet's religious and political thought in the aftermath of the Puritan revolution. Dr. Ernie Suarez, chair of the English department, describes Dr. Gregory as "an exceptional scholar and teacher, and a tremendous colleague." Dr. Suarez adds that "We're so pleased Dean Smith created this opportunity for Arts and Sciences faculty."
Dr. Mayhall will also use the sabbatical to finish an ongoing book project, Aristocracy and Celebrity: Rebranding Privilege in Britain, 1880-1950, on the creation of British aristocratic "celebrity commodities." In addition, she plans to finalize a co-edited collection of essays on British detection fiction and also submit a multi-volume collection of primary documents on "Suffrage and the British Empire." Dr. Michael Kimmage, chair of the History department, writes that Dr. Mayhall "is an exceptional and wide-ranging scholar of British history, whose work has earned wide resonance in the scholarly world and in the public sphere. She is also an immensely popular teacher of our undergraduate and graduate students."
Dr. Russo will finish his book project on Sound Circulations: Radio Formats and the Origins of Algorithmic Culture, which studies "the practices by which radio both re-nationalized in the format era and how those formats functioned as prototypes of what is now called algorithmic culture." Dr. Niki Akhavan, chair of the Media and Communication Studies department, notes that Dr. Russo "is an outstanding scholar and teacher with the qualities we hope to cultivate in our students: he is an original thinker and a generous colleague whose service to the department and the university continues to strengthen our CUA community. A media historian who also manages to always be ahead of the latest developments in popular culture and media technologies, he easily connects with students and inspires them to think critically about their relationship to media and technology."
Congratulations to Tobias, Laura, and Alex on this achievement.
The following press release can be found on the University's website, but it is reprinted here with all appropriate kudos to CUA Press Director Dr. Trevor Lipscombe and his staff.
The Catholic University of America Press has exceeded it's "best-ever" year of book sales with two full months left in the fiscal year. The previous record was set in 2018. As of February 18, this year's sales are already 9 percent higher than last year's.
"In spite of the pandemic, which has hit the publishing industry hard, the books we publish have maintained their strong appeal in these difficult times due to our commitment to publish important and abiding works," says Trevor Lipscombe, director of the Press. The University press publishes works of scholarship, textbooks that help train the next generation of scholars, and books of broad appeal for a general audience.
"This level of sales is a remarkable achievement, and thanks are owed to all those involved in our book-publishing process -- from our work-study students to the faculty members on our editorial committee and, above all, to the Press staff," Lipscombe says.
Although most publishers saw book sales plummet last February and struggle since, book sales for the Catholic University Press "have been strong all around." Remaining particularly popular have been Renewing Our Hope by Bishop Robert Barron, auxiliary bishop of Los Angeles and alumnus of Catholic University, and the late Papal Latinist Reginald Foster's "Ossium Carnes Multae e Marci Tullii Ciceronis epistulis": The Bones' Meats Abundant from the epistles of Marcus Tullius Cicero.
The Press also recently released its Spring/Summer 2021 Catalog. Among the new titles is the third edition of A Catechism for Business by Andrew Abela, dean of the Busch School of Business, and Joseph Capizzi, director of the Institute for Human Ecology and professor of moral theology. The book "compiles a wide range of Church teachings in an easily readable format to answer questions about business life, to explore profound questions about faith and business," writes Trevor Lipscombe, director of the Press. 
Also featured is the essay collection Mystery and Intelligibility edited by collegiate associate professor of philosophy Jeffrey Dirk Wilson. It features an essay by his colleague Professor Tim Noone. The Black Catholic Studies Reader is edited by CatholicU alumnus Rev. David Endres and includes an essay from Servant of God alumna Sister Thea Bowman.
The Catholic University of America Press publishes scholarly works and serious studies of general interest in the humanities and social sciences, namely in history (ecclesiastical and secular), literature and languages, philosophy, political theory, and theology. Interdisciplinary emphases are found in patristics and medieval studies.
An online copy of the new catalog is available at cuapress.org. To receive a print version, call 202-319-5052.
The University Libraries have a number of announcements and news items for your attention:
Control textbook costs for CU students: Use of open textbooks reduces expenses for students and helps increase degree completion. The Washington Research Library Consortium will be offering faculty a brief introduction to open textbooks and a panel discussion featuring five faculty members from local universities who teach with open course materials on Wednesday, March 10th, at 11:30am. Faculty attendees will have the opportunity to earn a $200 stipend by posting a review of an open textbook. For more information, visit https://oa.wrlc.org
Liaison Librarians: If you have any questions or concerns about library services and collections for yourself or your students, please reach out to your liaison librarian. Inviting them to attend your regularly scheduled school or department meetings is a great way to open up communications; they can listen to the latest plans for your instruction & research and report on changes to library services and collections.
Mullen Library is open to all!: As a reminder, Mullen Library is open to all students, staff, and faculty. Though COVID protocols are in place to ensure de-densification and safe use of collections, all undergraduate and graduate students may freely make reservations for our study spaces and schedule book pickups. Please see the Libraries COVID-19 Information Guide for more details and direct your students to this guide for accurate and up-to-date information. 
On February 10, the Ambassador of Mexico, Martha Bárcena, and the Ambassador of France, Philippe Étienne, along with their spouses visited Special Collections in the Rare Books reading room in Mullen Library. They were welcomed by me, Dr. Sandra Barrueco, Director of the Institute for Latin American and Iberian Studies, and W. J. Shepherd, Head of Special Collections. Dr. Maria Mazzenga, Curator of the American Catholic History Collections, shared with them selections from the Iturbide-Kearney Family Collection, notably the Plan de Iguala, and the University's coin collection. During this visit, we learned that Ambassador Bárcena is the great-great-granddaughter of Claudio Jannet who had donated the original coin collection to the University in 1894.
In support of the Campus Ministry-run MLK Day of Service civil rights walking tour, Special Collections supplied photos and research services. Archivist Shane MacDonald researched the photos and Dr. Maria Mazzenga wrote the text for the campus signs and website.  
Special Collections co-sponsored a talk by Dr. Shannen Dee Williams of Villanova University titled "The Real Sister Act: Why the Stories of U.S. Black Catholic Sisters Matter". In this talk, held on February 10th, Dr. Williams drew on the hidden histories of the nation's black Catholic sisters to highlight the African American roots of the U.S. Church and recover the widely overlooked Catholic dimensions of the African American freedom struggle. Over 120 participants attended the talk. This event was coordinated by the Department of History, and co-sponsored by the School of Theology and Religious Studies, the Office of Campus Ministry, the Black Student Alliance, and the Center for Cultural Engagement.
These are the important upcoming dates for all of us:
Summer 2021 and Fall 2021 class offerings become viewable in Cardinal Students

Last day for Spring 2021 degree candidates to submit online diploma application (use

Cardinal Students

)

Monday, March 8 through 

Friday, March 12

Faculty submit interim grades for undergraduates in Cardinal Students

Last day to resolve grades of Incomplete from the previous semester

Last day to change to audit (must have dean's permission)

Pre-registration advising for Fall 2021 begins

Registration for Fall (First) Semester 2021 begins (use

Cardinal Students

); enrollment appointment schedule available

here
As always, if you would like to share positive information from your academic unit, department, or school, I would love to include it in future newsletters as space allows. 
I ask you to send "good news" to Assistant Provost David Long at longdp@cua.edu, and I will try to share as many as these items in upcoming newsletters.
Sincerely,
Previous Faculty Newsletters from Provost Dominguez