The Catholic University of America recognizes the many valuable contributions that part-time faculty make to the University community. This website is intended to provide helpful information on policies and procedures, campus resources, and important updates on news and events throughout the year. 
Part-Time Faculty Committee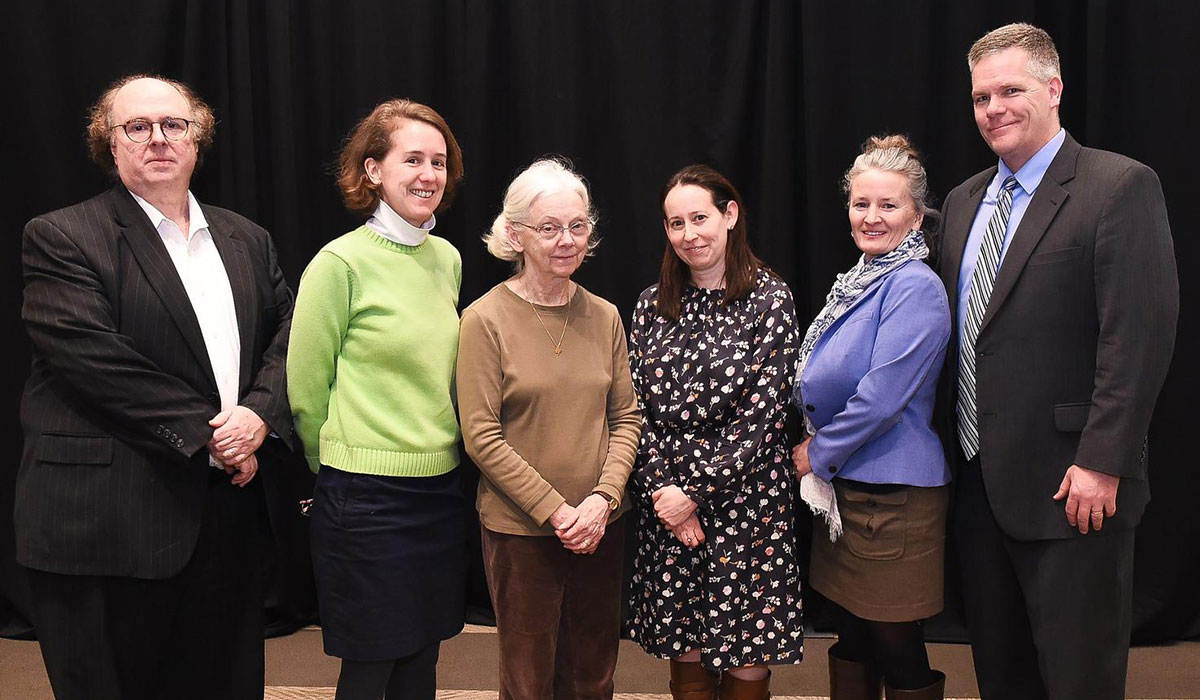 Our Part-Time Faculty Committee from 2019-2020
The current membership of the committee is as follows: Ana Roman Andrino (Architecture), David Clark (Arts & Sciences: Anthropology), Jim Quirk (Arts & Sciences: Politics), Janet Timbie (Arts & Sciences: Semitic and Egyptian Languages and Literatures), Bob Powers (Busch School of Business), Rick Thompson (Engineering), Larry Robertson (Metro), Francesca Hurst (Rome School of Music, Drama and Art), Ruth White (National Catholic School of Social Service), Marysanta Bigony (Conway School of Nursing), Elizabeth Shaw (Philosophy) and James Starke (Theology & Religious Studies). Kevin Ball in the Office of the Provost is serving as the Interim Chair of the Committee. 
The Part-Time Faculty Committee meets several times each year to discuss the interests and needs of part-time faculty and regularly consults with the Provost.
Questions, comments, concerns? Please contact us.
News and Events
The Part-Time Orientation has moved online.
Dear Part-Time Faculty,
Welcome to the 2020-21 academic year at Catholic University. Last year, we began what we hope will be an annual orientation for all part-time faculty, new and returning, to celebrate the beginning of the academic year and to help familiarize all part-time faculty with university offices and programs. 
As the COVID-19 pandemic precludes such an in-person gathering this semester, we have put together this short guide, meant to point you to some key resources and offices you may need as the semester begins. You will also be able to find a comprehensive list of resources at the bottom of this website, as well as an "onboarding" page on the website of the Office of Human Resources. We hope that through these websites, many (if not all) of your questions about being a member of our faculty and community will be answered.
Now more than ever, we are grateful for all that our part-time faculty contribute to the University. While the present moment holds many challenges, we appreciate all your care and devotion to the students. If the Part-Time Faculty Committee can be of any help, or if you have concerns or suggestions to share, please do reach out to us.
Good luck with the start of the semester and we look forward to the day when we are again able to gather in person.

Sincerely,
The Part-Time Faculty Committee
Orientation Resources
COVID-19 Updates: This website brings together the most up-to-date information about the university's operations during this time of crisis. The site includes useful FAQ guides for faculty, as well as current status updates and policies.

Center for Teaching Excellence: The Center is a key starting point, especially for this semester of hybrid education. The Center runs a range of training programs to help faculty prepare for the challenges of teaching during the pandemic. Past sessions are recorded and can be watched at your convenience. The Center is also available to consult with faculty about best practices and to help with syllabi review and adapting new technologies. Please note: all Center for Teaching Excellence resources are available to part-time faculty!
Technology Services: Technology services is essential, especially for new faculty. They can help you get started with university technology like Blackboard, Zoom, and CUA email. They are also offering additional resources to help faculty learn new tools, like Panopto, and are available for consultation to help individual faculty integrate technology into their classrooms.

Disability Support Services: Disability Support Services seeks to integrate students with disabilities fully into the university. They are available to work with faculty with concerns about accommodating student disabilities, and have updated their website with new FAQ in light of Covid-19 concerns.
University Libraries: The university's main library, Mullen, is expected to reopen for the fall semester on September 14, 2020. Faculty are able to request books for pickup, and the library staff are hard at work scanning items from the physical collection, and, to the extent possible, fulfilling some ILL requests. The library has produced a list of resources to aid instruction (including sources for open access textbooks) and staff members are available to work with faculty to scan materials for course Blackboard sites. Subject librarians are able to discuss particular teaching/research needs with faculty.

Dean of Students: The office of the Dean of Students works to ensure a productive and fulfilling university experience for all students, academically, socially, and personally. They can assist faculty who have concerns about students, academic or otherwise. Academic concerns about students can also of course be addressed with your dean or chair.

Counseling Center: The University's counseling center is available for assessments, therapy and referrals, depending on the student's needs. This is an excellent resource to direct students to, especially in these challenging days. 
Award Winners Announced for the 2019-2020 Academic Year
Congratulations to the winners of our Part-Time Faculty Teaching Awards for 2019-20:
From the Professional Schools: Daniel Zachem, Esq., Columbus School of Law
From Arts, Sciences and Humanities: Dr. Shawqi Talia, Department of Semitic and Egyptian Languages and Literatures
From the Ecclesiastical Schools: Rev. Dr. Frank Donio, S.A.C., School of Theology and Religious Studies
These awards were presented at the Part-Time Faculty Dinner and Town Hall on Thursday, March 5, 2020. Learn more about Fr. Frank's journey from Catholic University undergraduate student to this teaching award in this story from the History Department.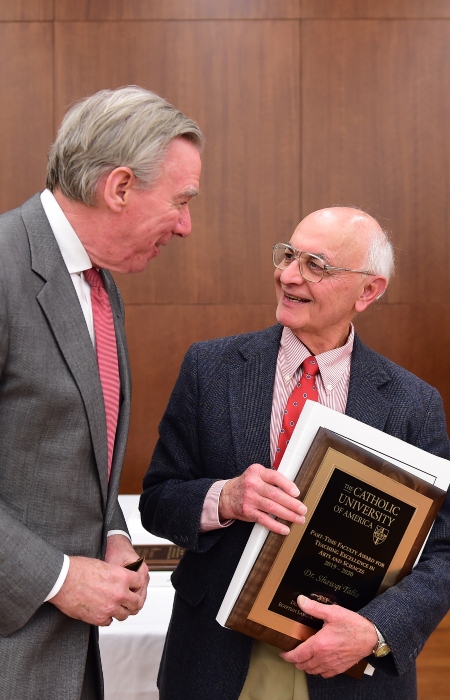 Above: President John Garvey speaking with Dr. Shawqi Talia after the presentation of his award on March 5, 2020. (Photo by Patrick Ryan)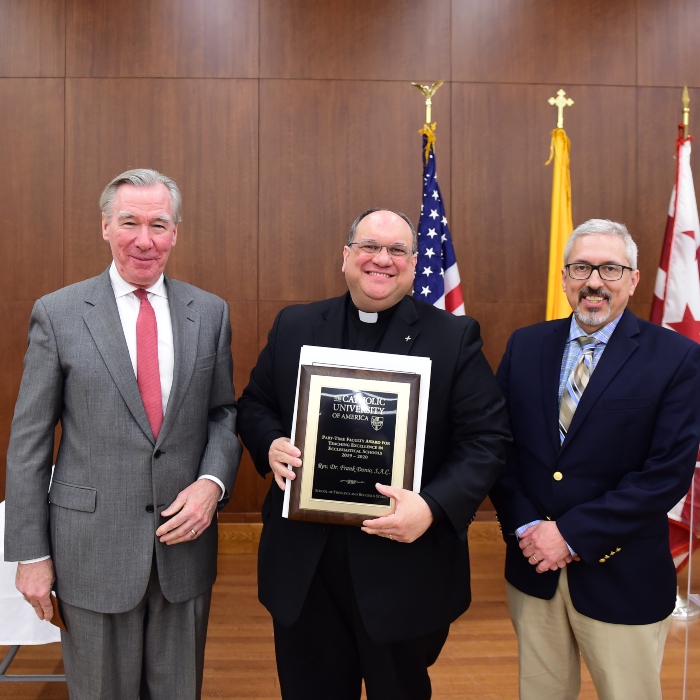 Above: President John Garvey, Fr. Frank Donio, S.A.C. and Provost Aaron Dominguez at the Part-Time Faculty Awards Dinner on March 5, 2020. (Photo by Patrick Ryan) 
Helpful Links