The Catholic University of America recognizes the many valuable contributions that part-time faculty make to the University community. This website is intended to provide helpful information on policies and procedures, campus resources, and important updates on news and events throughout the year. 
Part-Time Faculty Committee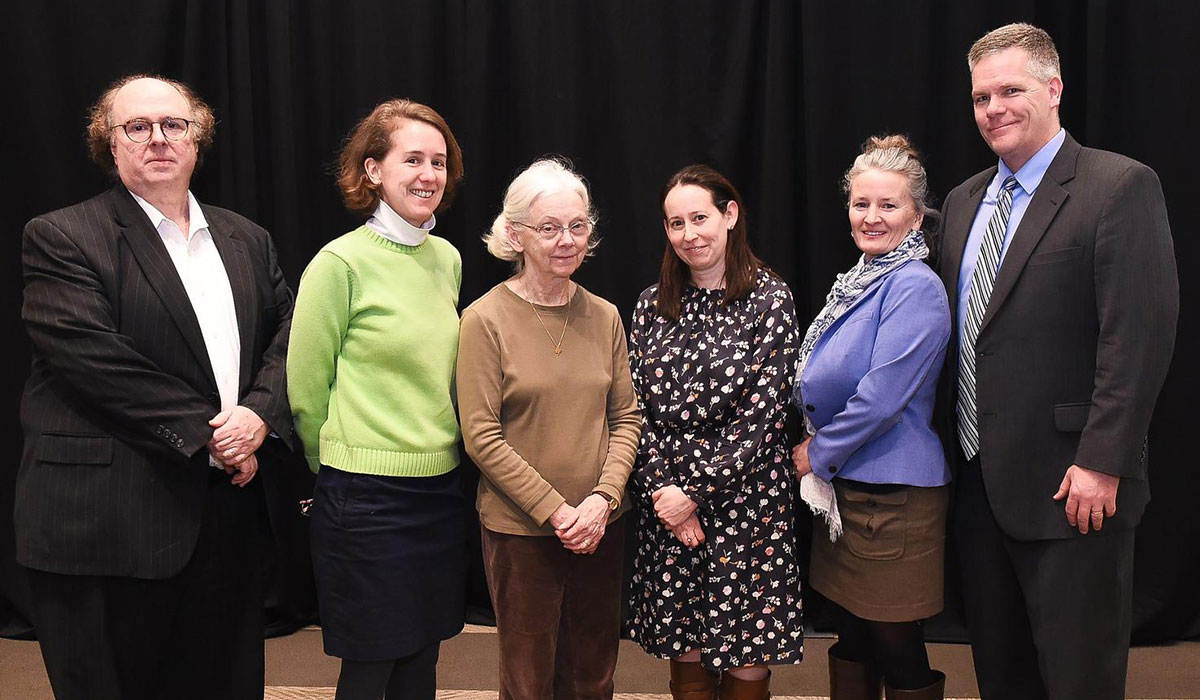 The current composition of the committee is as follows, pictured (L to R): Rick Thompson (Engineering), Elizabeth Shaw (Philosophy), Janet Timbie (Semitic and Egyptian Languages and Literatures), Jennifer Davis, Chair of the Part-Time Committee (History), Ruth White (National Catholic School of Social Service), Jim Quirk (Politics), David Clark, not pictured (Anthropology), and Raymond J. Wyrsch, not pictured (Busch School of Business).
The Part-Time Faculty Committee meets several times each year to discuss the interests and needs of part-time faculty and regularly consults with the Provost.
Questions, comments, concerns? Please contact us. 
News and Events
Congratulations to the winners of our Part-Time Faculty Teaching Awards for 2019-20:
From the Professional Schools: Daniel Zachem, Esq., Columbus School of Law
From Arts, Sciences and Humanities: Dr. Shawqi Talia, Department of Semitic and Egyptian Languages and Literatures
From the Ecclesiastical Schools: Rev. Dr. Frank Donio, S.A.C., School of Theology and Religious Studies
These awards were presented at the Part-Time Faculty Dinner and Town Hall on Thursday, March 5, 2020. Learn more about Fr. Frank's journey from Catholic University undergraduate student to this teaching award in this story from the History Department.  
Above Left: President John Garvey speaking with Dr. Shawqi Talia after the presentation of his award on March 5, 2020. Above Right: President John Garvey, Fr. Frank Donio, S.A.C. and Provost Aaron Dominguez at the Part-Time Faculty Awards Dinner on March 5, 2020. (Photos by Patrick Ryan) 
Helpful Links